Take A Look
At What's
Happening!
Make sure you
check out recent news,
updates and
photos below!
Wedding Anniversary Mass 2022
All couples married in the Catholic Church celebrating their 1st, 25th, 50th or 50 plus wedding anniversary in 2022 are invited to attend a Mass at St. Mary Cathedral on Saturday, February 12, 2022, and receive a blessing from Archbishop Thomas Wenski. Couples interested in having their picture taken with Archbishop Wenski should arrive by 4 p.m. Mass will start at 5:30 p.m. Participants will sit in a special designated area in the front pews.
To register, visit
Wedding Anniversary Mass
or contact the
Parish Office at 954-564-1010
extension #9.
Retrouvaille Weekend for Couples
Retrouvaille is for couples who need or want to rekindle and strengthen their marriage or get it back on track. It is also for couples who may be cold and distant, and believe that there is no hope for their marriage. The program helps couples that are struggling in their marriage, even those who are considering marriage separation or who are already separated or divorced. We welcome couples of ALL ages, regardless of how long they have been married, or have been in trouble. Retrouvaille has helped heal tens of thousands of marriages worldwide.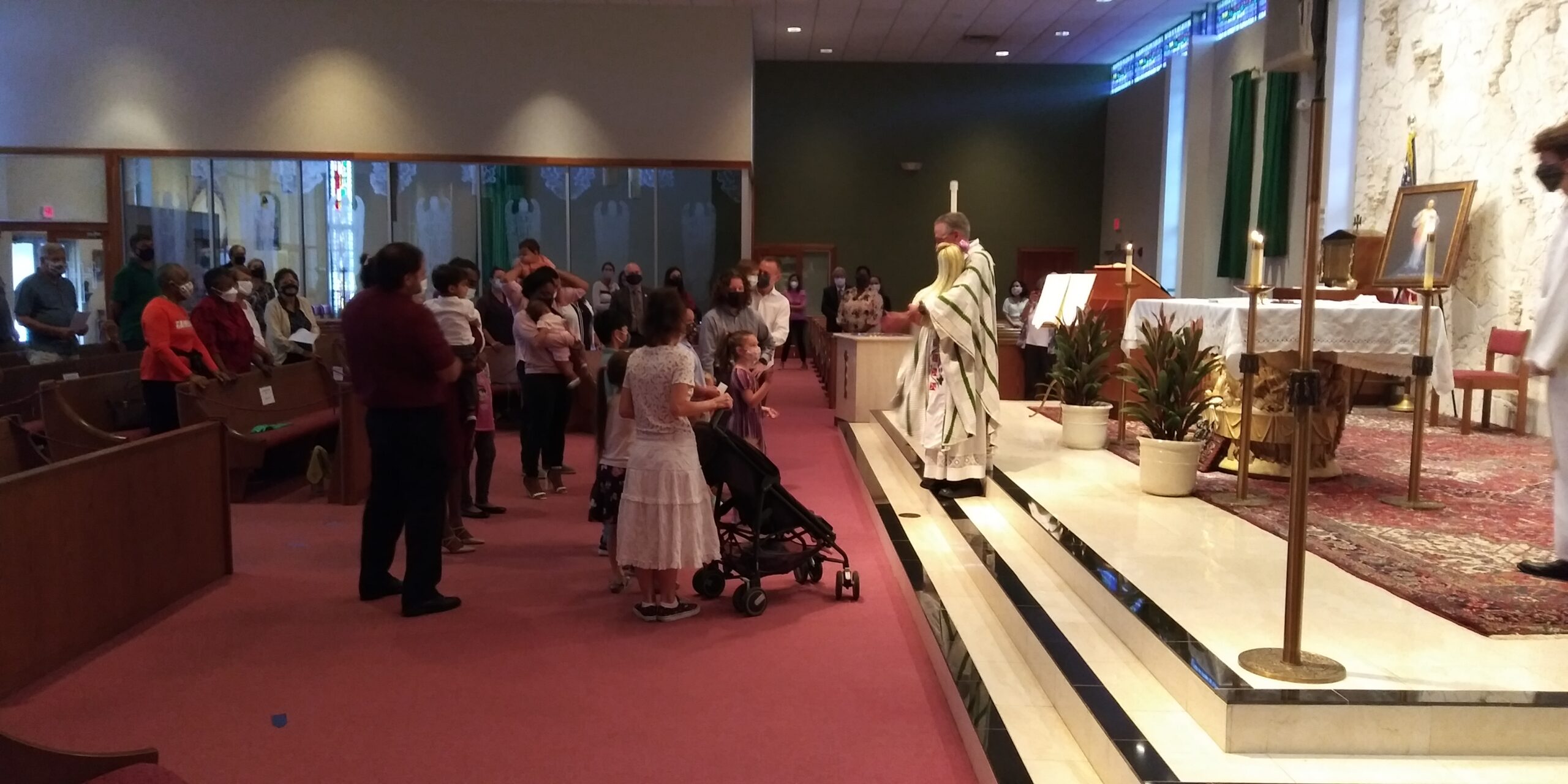 On October 3rd, the Twenty-Seventh Sunday in Ordinary Time, Mark's Gospel shows a special scene. At a certain moment Jesus touches the children to bless them. He points out their vulnerability. By this action he makes clear we must be responsible for the care of the vulnerable among us. Life is not just a matter of birth but of the whole of the life span. Respect for life and every person's needs is a matter of concern from womb to tomb. Our society must care for the vulnerable throughout the whole of the life span.

On this Sunday, October 3rd, also known as Respect Life Sunday, Fr. Bob called forward the families and their children at the Liturgies and blessed them.
Liam baptized into the Faith!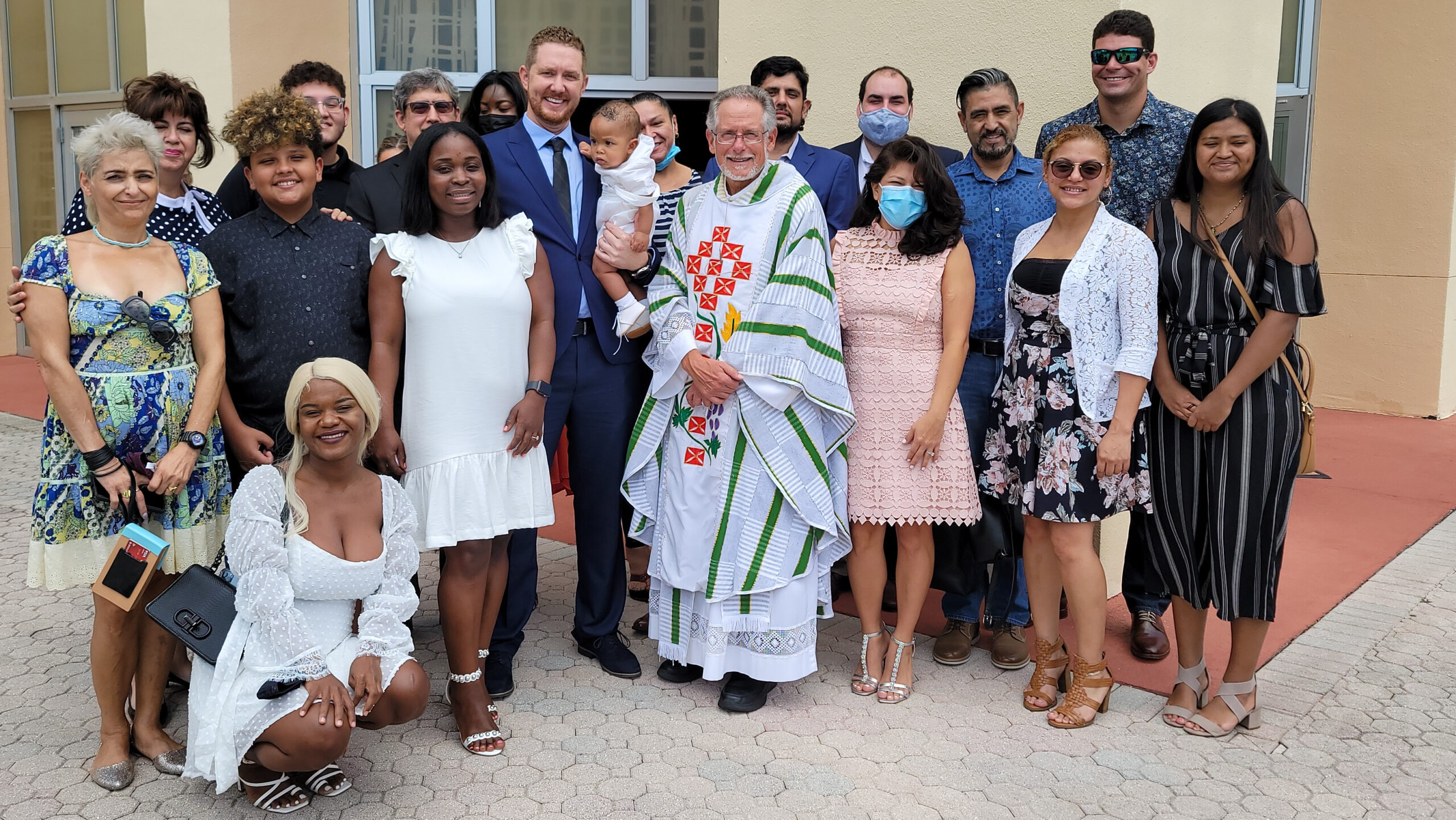 On August 8th our faith community grew again. Liam was baptized into the Faith. In the picture Liam is in the arms of his father Ryan. Liam's mother, Ryan's wife, is just to Ryan's right in the white dress. As you can see the extended family showed up. In addition, Liam and his mother came to visit the rectory office the following week. May they always know the love of God.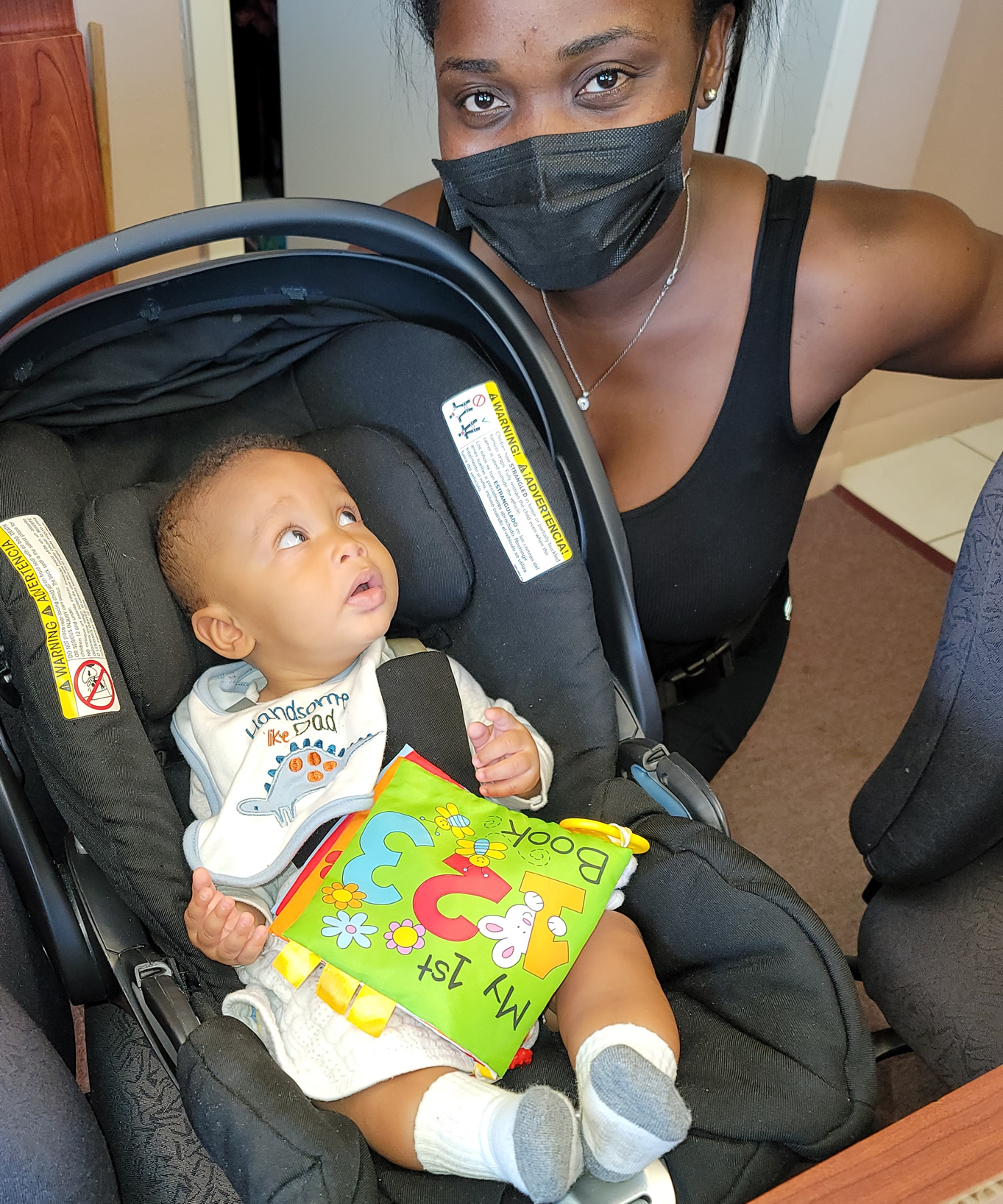 ---
First Communion
and Confirmation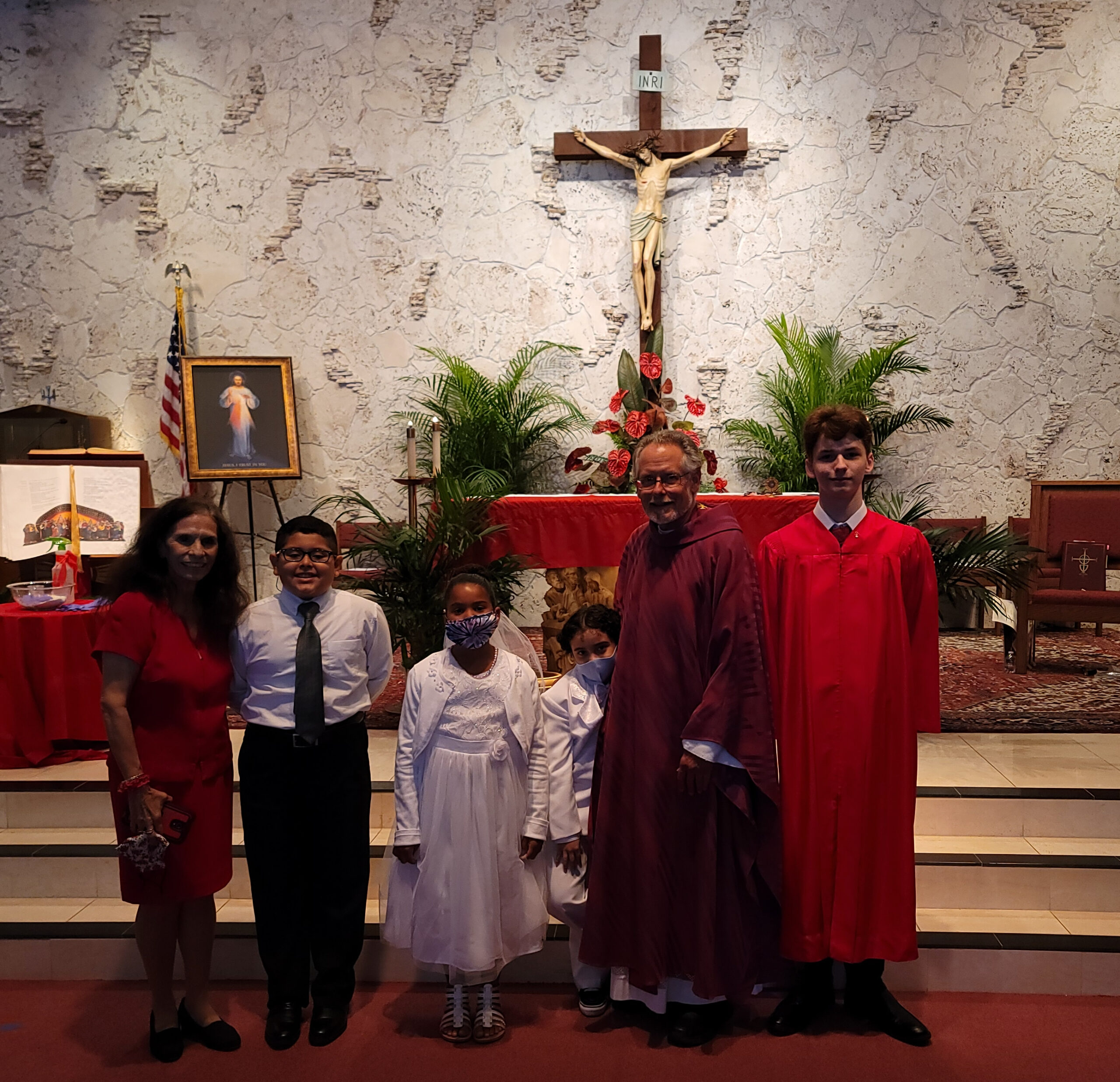 On the Thursday evening before Pentecost Sunday two young men completed their initiation into the Church by the Sacrament of Conformation. One is Ryan (not in the picture) and the other is Jesse (seen in the red robe).

On Pentecost Sunday three children recieved Holy Communion, the Eucharist, for the first time. They are Jason (the shortest), Olivia and Roberto. Marion who leads the Formation In the Faith is seen here too.

Fr. Bob is our Pastor.

May They and their families always walk with the Lord.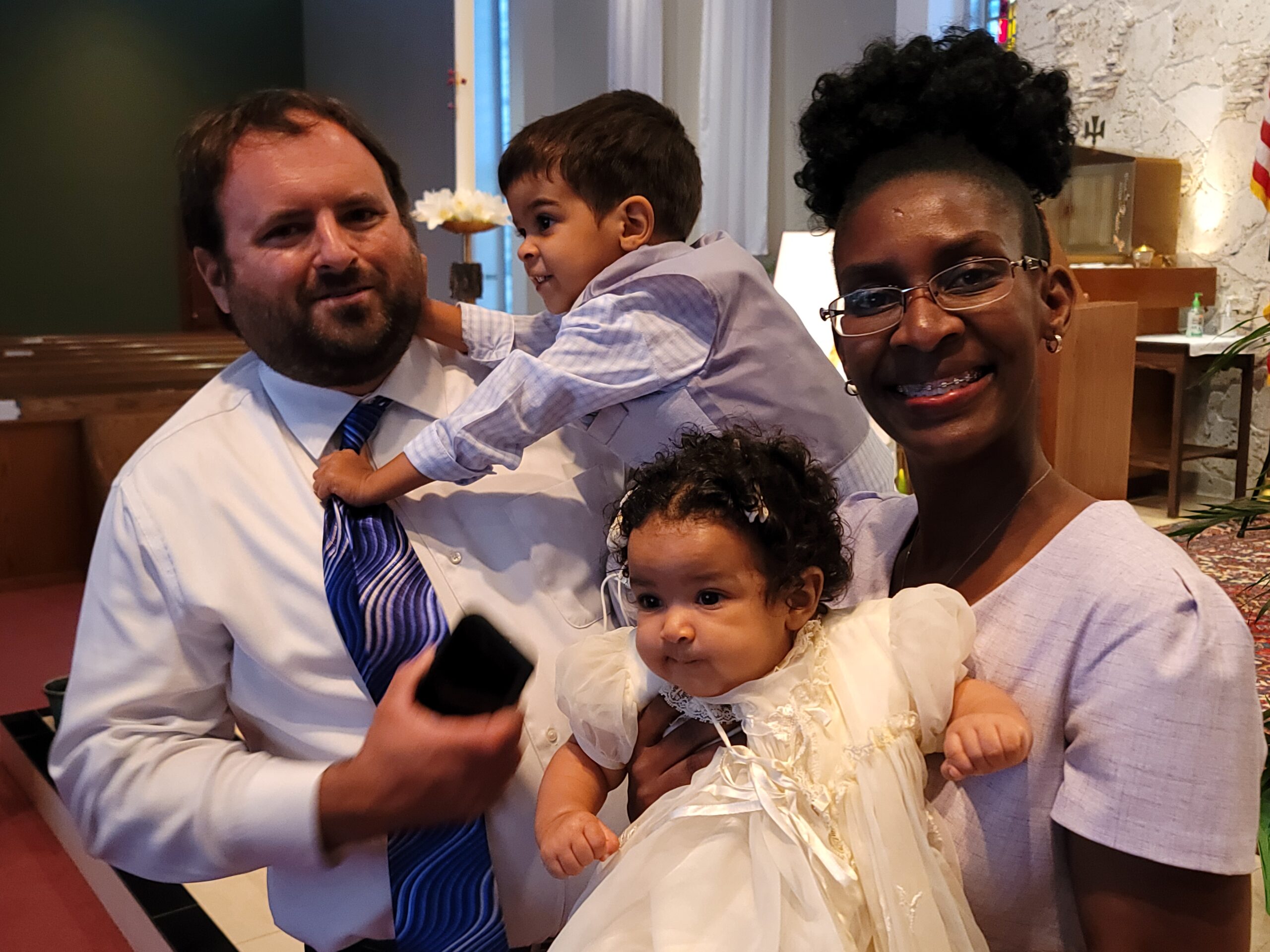 On the Third Sunday of Easter we added another "young lady" to the Community of Faith! Her name is Leia. Her parents are Johnathan and Julie. This is their second child to be baptized at Blessed Sacrament Parish. Logan was their first. Now they have a son and daughter. We are more than delighted!
Pictured (right) with them and their children are Fr. Bob Tywoniak and the proud God Parents Diane and Gregory.
The Faith Community at Blessed Sacrament continues to grow. In the next couple of months we know there will be another child to be baptized. That child is a boy. I wonder if we can make a match in the future.
Fr. Bob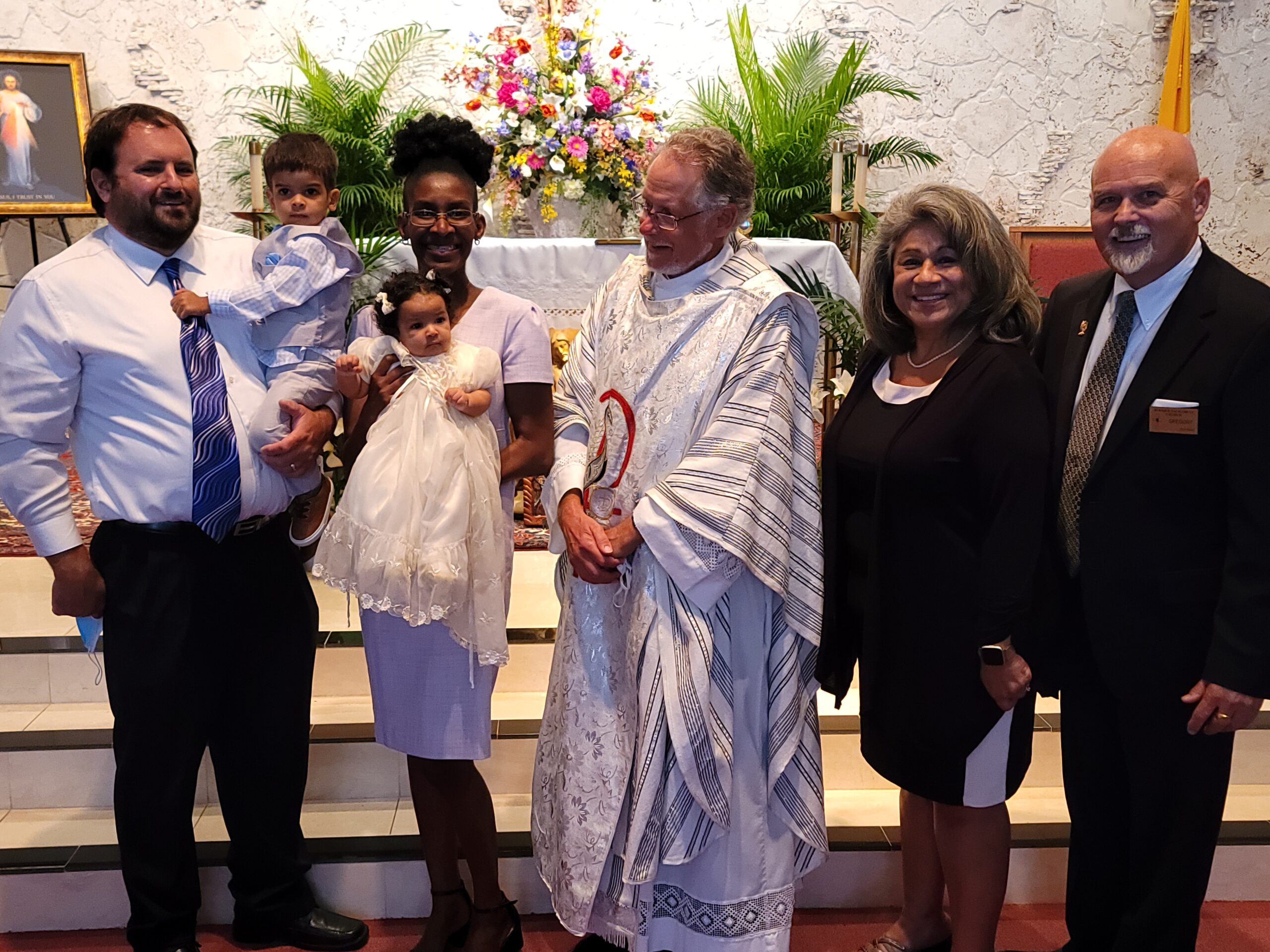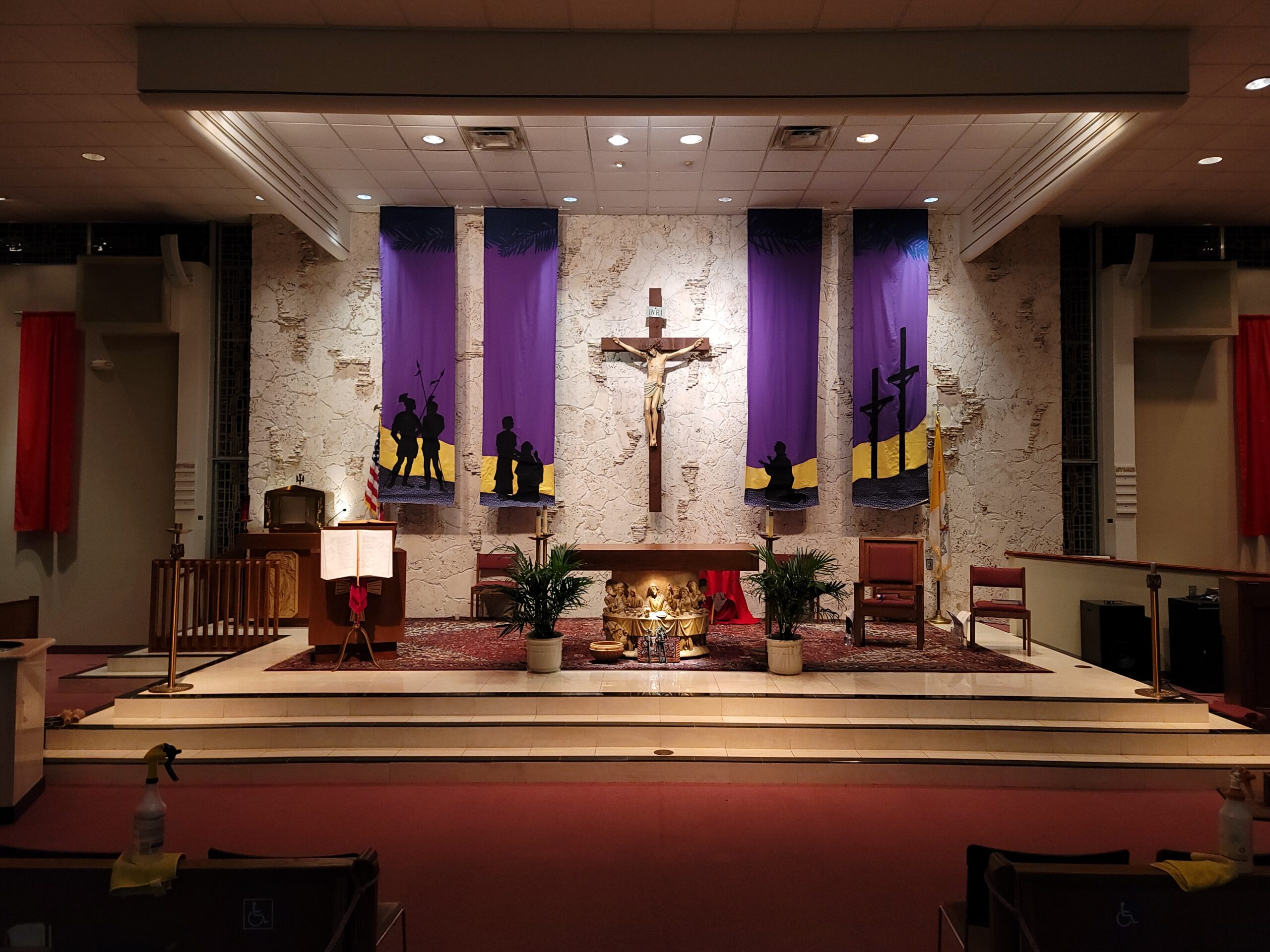 Thanks for viewing our site and sharing in Father Bob's weekly reflections on the Sunday scriptures.

This is our parish church decorated for Good Friday and the Easter Vigil. For Good Friday you will note the mural on the back wall that surrounds the crucifix. This depicts Mary and others, such as the beloved diciple at the foot of the Cross. The mural was finished by our "in house" artist, a member of Blessed Sacrament Parish, Brian Fitzgerald. Brian maintains a studio in the historic district of Fort Lauderdale, Florida. He specializes in works made of fabric.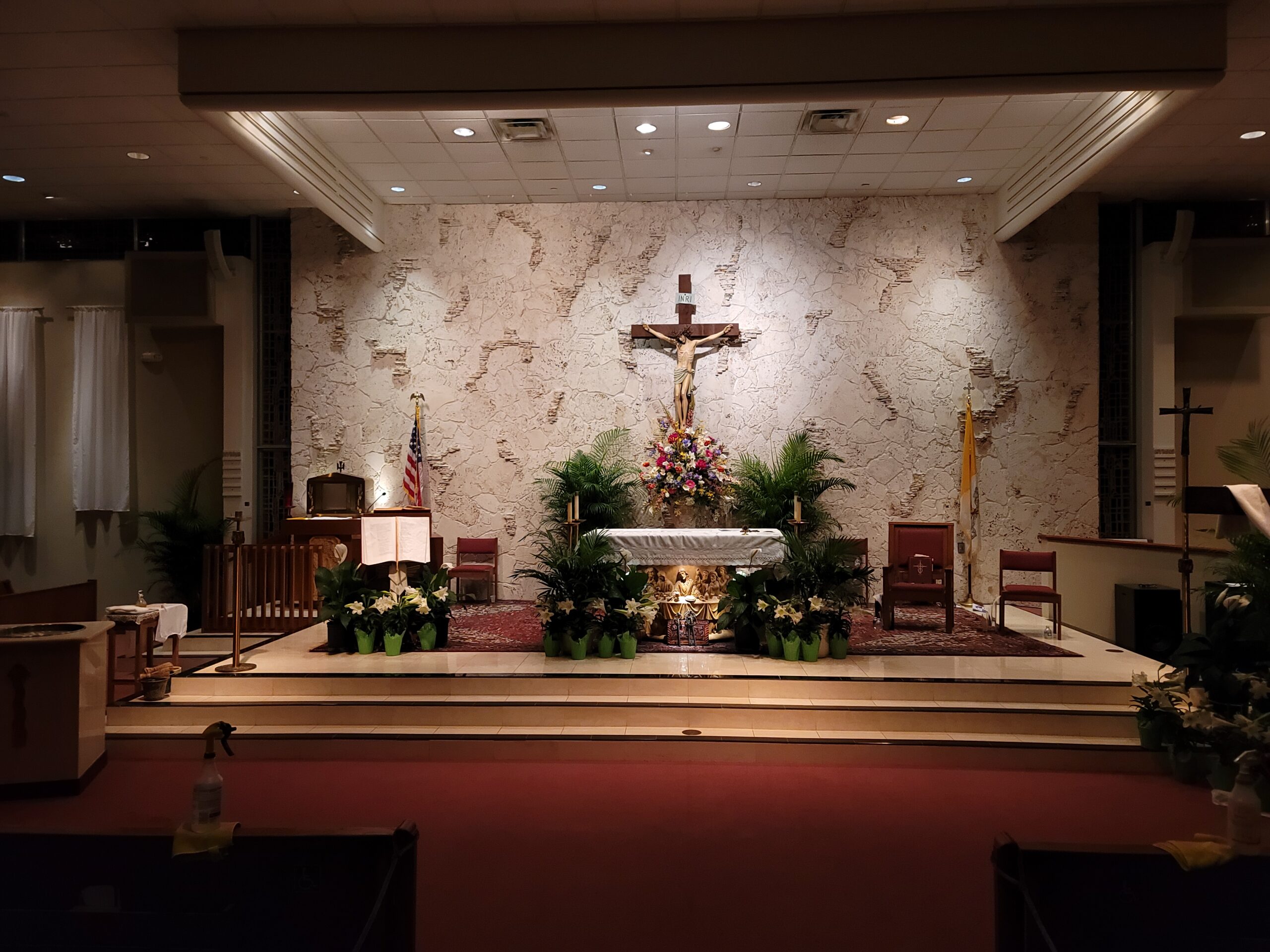 The arrangement of the sanctuary for Easter is designed and set in place by our set design and work crew. They are Bill, Ed, Dennis, Carlos with help from the Pastor, Fr. Bob.

Come visit us during this Easter Season. It lasts through the Feast of Pentecost.

A kind donation from you to our work here at Blessed Sacrament Parish is welcomed. Besides this informative website, we provide uplifting Liturgies on the weekend. The Sunday celebration also challenges you through the Scriptures. Moreover, the parish supports the provision of food and other services people are in need of.

Simply go to our online giving button. We appreciate your support to keeping our work in the name of God moving forward.

Peace be with you.
Father Dennis's
New Webpage!
Take a look at the page below. It contains reflections by Fr. Dennis. You have come to know him. For the better part of a year, he has graced the pulpit of Blessed Sacrament Parish with fine, courageous preaching. Perhaps you would like to read his challenging columns.


We had some VERY special Guests!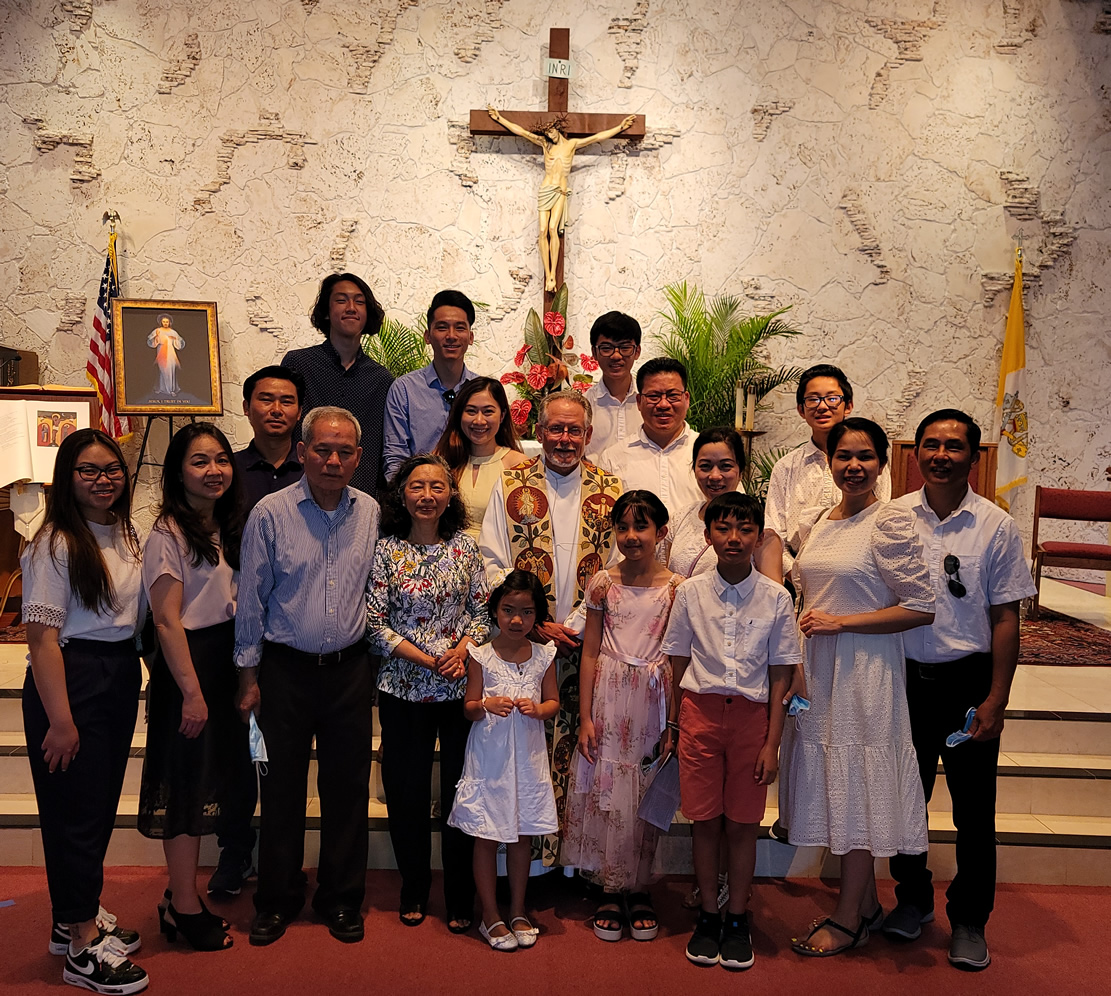 On the feast day of our parish, Corpus Christi, the Body of Christ, the Blessed Sacrament, we had special guests! This extended family from Atlanta were in town for a family reunion. They are Vietnamese. Five of them were born in Vietnam and escaped to the U.S. On our feast day we of Blessed Sacrament were graced and honored that they chose to celebrate the Eucharist with us during their own special family reunion.

May the Lord's Peace be with them.