Saturday Vigil
4:00 p.m.
Sunday
9:000 a.m. & 10:45 a.m.
Daily - Tuesday - Friday
8:00 a.m.
Sacrament of Reconciliation
Saturdays from 3:00 p.m. - 3:30 p.m.
Thursday evenings 6:30 p.m. - 6:50 p.m.
Call office for appointment


Questions/Comments
for the Pastor?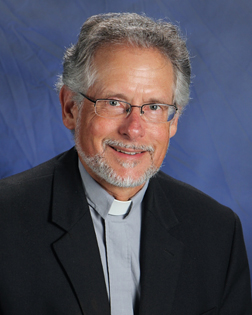 Deacon Dan Blaha (Retired)..... Assisting
Lead Musician........ Daniel J. Perez

Monday - Thursday 8:30 am - 3:30 pm
Friday 8:30 am - 3:00 pm
Office Manager - Yvonne Tawfik-Mestre
Phone:
954-564-1010
Extension 9
Fax:954-566-0301
Email Address:
bscc1701@bellsouth.net
Website questions/comments?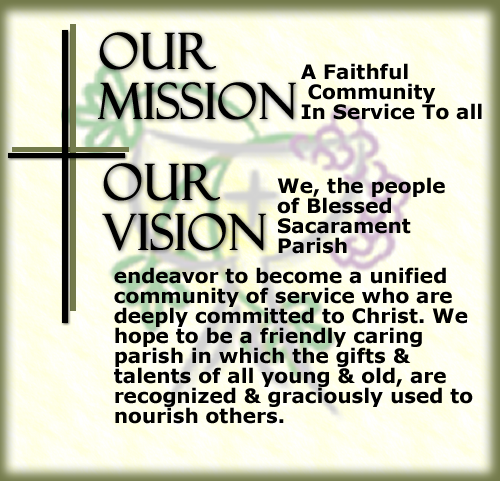 This Weeks
Mass Intentions
March 18, 2023 - March 26, 2023
Saturday Vigil, March 18, 2023
4:00 p.m.
†Josephine Marotta
by Family
Coral Ridge Towers
St. Joseph Devottees
by Friends

Sunday March 19, 2023
9:00 a.m.
Blessed Sacrament Parish


†Daniel Martinez
by Gino Aitro
Tuesday March 21, 2023
8:00 a.m.
†Bernard & Eileen Flood
by Flood Family
Wednesday March 22, 2023
8:00 a.m.
†Dn. Al Pickford
by Joanie


Thursday, March 23, 2023
8:00 a.m.
Steven Smith
by Selma Cardona


Friday, March 24, 2023
8:00 a.m.
†Azucena Mosquera
by Alprecht Family

Saturday Vigil, March 25, 2023
4:00 p.m.
†Ricky Barone
by Anthony &
Rose Michel
†Tina Malone
by Nancy, Marylou,
& Paul

Sunday March 26, 2023
9:00 a.m.
Blessed Sacrament Parish

†Manuel Coelho Rodrigue
by Fernando Rodrigues
† Ruperto Dala
by Raymund Dala
1701 East Oakland Park Blvd.
Oakland Park, FL 33334
Take A Look
At What's Happening!
Stations of the Cross
Every Thursday Evening During Lent 7:00pm
Sacrament of Reconciliation
6:30 to 6:55pm
This is a unique Scriptural Way of the Cross. Children like it because they are able to follow around the church with Father or the Deacon.
Passion Sunday
April 2nd (Usual Weekend Schedule)
Holy Thursday April 6th at 7pm
Good Friday April 7th at 7pm
Easter Vigil April 8th at 8pm
Easter Sunday
April 9th
Masses at 9am and 10:45am
---
Operation Utility Bag
St. Vincent de Paul Society
It is time to pick up your "Utility Bag" for this year's drive to support the work of the St. Vincent de Paul Society.

Bring the bag home. Fill it each day with money you would have used on a "treat" for yourself. Or, simply place change, large or small, in the bag each day and let it multiply.

At the End of the Easter Season return the Utility Bag to the church.

This money is used to help pay utility bills for clients of the Society
---
---
Stewardship is the care we take of the gifts we have been given. The primary gifts are those of Time, Talent and Treasure. Within these are found all the other attributes you may find in yourself.

Let us join together and make the Lord appear in our world by supporting this parish and beyond!

Will you respond to God's gracious call to you with enthusiasm?
Parish Stewardship Recognition, 2023
Parish Members - Djaniane Garcia, Molly Fuentes, Jesse Nafarrate
Community Member Recognition
Chris Fischer
Learn more
---
Thursday evenings
7:oo p.m. - 8:00 p.m.
Reconciliation 6:30 pm - 6:55 pm
Scriptural Stations of the Cross