Saturday Vigil
4:00 p.m.
Sunday
9:000 a.m. & 10:45 a.m.
Daily - Tuesday - Friday
8:00 a.m.
Sacrament of Reconciliation
Saturdays from 3:00 p.m. - 3:30 p.m.
Thursday evenings 6:30 p.m. - 6:50 p.m.
Call office for appointment


Questions/Comments
for the Pastor?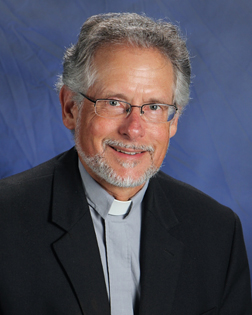 Deacon Dan Blaha (Retired)..... Assisting
Lead Musician........ Daniel J. Perez

Monday - Thursday 8:30 am - 3:30 pm
Friday 8:30 am - 3:00 pm
Office Manager - Yvonne Tawfik-Mestre
Phone:
954-564-1010
Extension 9
Fax:954-566-0301
Email Address:
bscc1701@bellsouth.net
Website questions/comments?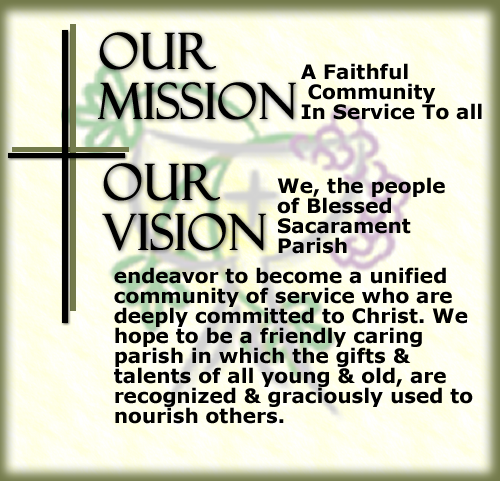 This Weeks
Mass Intentions
November 26, 2022 - December 4, 2022
Saturday Vigil, November 26, 2022
4:00 p.m.
Giving Thanks
by Saintil, Valmyr,
Dupelord, & Kelly Families
†Terry Young by the Moroney Staff
Sunday November 27, 2022
9:00 a.m.
†Elliot Michael Basalone by Father
†Connie Hobbs Houchins by Martin & Frank


Tuesday November 29, 2022
8:00 a.m.
For Hope by the Parish
Wednesday November 30, 2022
8:00 a.m.
Karina Valentin by Parish


Thursday, December 1, 2022
10:00 a.m.
For World Juustice
by Parish
Friday, December 2, 2022
8:00 a.m.
For the People
of Ukraine
by Parish
Saturday Vigil, December 3, 2022
4:00 p.m.
Vocations to the Clergy
by the Parish
Sunday December 4, 2022
9:00 a.m.
Blessed
Sacrament
Parish
World Peace
by the Parish


1701 East Oakland Park Blvd.
Oakland Park, FL 33334
Go Get Someone!
Don't wait for a special invitation. Reach out to someone you know and invite them to join you here at Blessed Sacrament for a celebration of the Sunday Liturgy. Save a life! No kidding.
---
Feast of the Immaculate Conception of the
Blessed Virgin Mary
December 8, 2022
Holy Day of Obligation
Mass:
8:00 am & 7:00 pm

Please bring in Publix Gift Cards. This is our annual campaign to help the St. Vincent de Paul Society provide food for the holidays. Many people do not have the means to cook. Therefore, with the Gift Cards they may purchase food that is already prepared. The cards also help us provide supplemental food items to families in need throughout the year. Please provide the cards in $10 increments. Again, please bring in Publix Gift cards in $10 increments. Thank you.
---
Advent Thursday Evenings
This Thursday, December 1st
Service of Reconciliation

This Thursday evening at 7:00PM we will make ourselves one again with the Lord and His People. That is, we will celebrate the Sacrament of Reconciliation. This will be a beautiful moment in which we experience the renewing love of God!
7:00PM
This Thursday


All families in the Faith Formation program are required to participate in the Advent Thursdays.