Saturday Vigil
4:00 p.m.
Sunday
9:00 a.m. & 10:45 a.m.
Daily - Tuesday - Friday
8:00 a.m.
Sacrament of Reconciliation
Saturdays from 3:00 p.m. - 3:30 p.m.
Thursday evenings 6:30 p.m. - 6:50 p.m.
Call office for appointment


Questions/Comments
for the Pastor?
Assisting
Deacon Dan Blaha (Retired)
Lead Musician........ Daniel J. Perez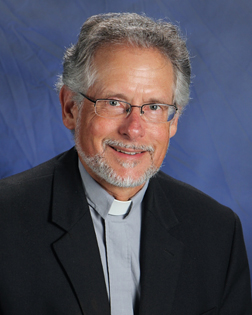 Website/Media questions/comments?
Monday - Thursday 8:30 am - 3:30 pm
Friday 8:30 am - 3:00 pm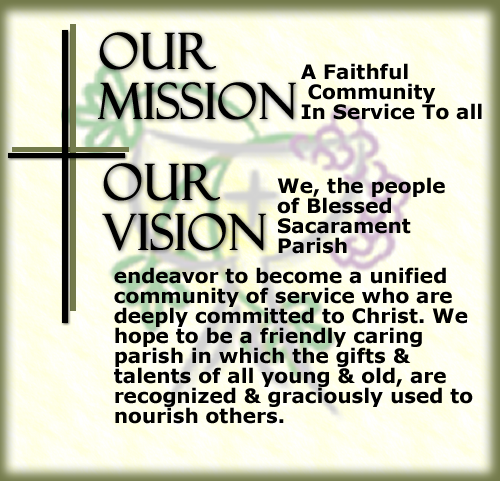 October 1, 2023 - October 8, 2023
Saturday Vigil, September 30, 2023
4:00 p.m.
†Rose Marchese
by David Marchese & Family
†James Marchese
by David Marchese & Family


Sunday October 1, 2023
9:00 a.m.
Blessed
Sacrament Parish


†Benilde De Jesus Coelho y
Fernando Rodrigues
† William Blaha
by Mom & Dad


Tuesday October 3, 2023
8:00 a.m.
†Grace Elizabeth Stedlemyer
by Ralph Scotto


Wednesday October 4, 2023
8:00 a.m.
Carlos Fuentes by Selma Cardona


Thursday, October 5, 2023
8:00 a.m.
Gary by Anonymous


Friday, October 6, 2023
8:00 a.m.
†Eddie Archbold
by Joanie


Saturday Vigil, October 7, 2023
4:00 p.m.
†Sean Driscoll
by Pat Burton
† Pat Malone
by Paul & Marylou Adams


Sunday October 8, 2023
9:00 a.m.
† Shirley Sharkey
by Family


†Shirley Sharkey
by Gayle
Paul & Philip Norton
† Claudette Messana by
Larry Casola


Scripture Sharing (lectio Divina) takes place every Thursday evening. It begins at 7PM and ends at 8PM. You will find the group of people who are interested in opening up the Sunday Scriptures in the chapel.

Note the complexity of the Scriptures we read for this weekend. Imagine that in advance of Sunday you have grasped their simple meaning.

The Sacrament of Reconciliation is offered prior to Scripture Sharing at 6:30pm.


1701 East Oakland Park Blvd.
Oakland Park, FL 33334
Take A Look
At What's Happening!

I was looking back in time in my calendar just by chance. I realized that many folks were just returning to public worship and celebration of the Liturgy this time three years ago.

I am grateful to all of you who have kept the Faith and help build up our community of Faith here at Blessed Sacrament Parish.

Let us praise God and give thanks that we are here today!
---
RCIA
Rite of Christian Initiation of Adults
Have you, an adult, ever been baptized? Have you been baptized into another Christian tradition but now need to become a full member of the Roman Catholic Church? Perhaps you were baptized in the Church but did not get to the point of receiving First Holy Communion or Confirmation.
The RCIA is the way for adults to do any and all of the above! Gregory and Fr. Bob would like to hear from you. They can sit with you, listen to your story and explain how to bring you into the fullness of the practice of the Christian faith.
Print and complete if interested
Archdiocese of Miami Development Corporation
As we approach the end of the year, there's never been a better time to make a gift to the ABCD. Your support can help us reach our fundraising goals and continue to serve our community with essential programs and services. #FiscalYearEnd #ABCD
www.isupportABCD.com
Did you know that planned giving can provide tax benefits while supporting your favorite charitable causes? Learn more about leaving a lasting legacy with the ABCD. #PlannedGiving #TaxBenefits #ABCD
donate@theadom.org
"Or am I not free to do as I wish with my own money? Are you envious because I am generous?' (Matthew 20:15)
As Christian stewards, we are likewise free to make our own choice. Is a generous return to the Lord in thanksgiving for His many blessings among the choices we have made? Are we generous in returning of our "first fruits" to the Lord in response to His many gifts?
---
Archdiocese of Miami
65th Anniversary Gala
Mass & Reception

Saturday, October 7, 2023 @ 5:30pm
Cathedral of St. Mary
7525 NW 2nd Ave., Miami, FL 33150
Presided by Most Reverend Thomas G. Wenski, Archbishop of Miami
Gala & Concert
Saturday, November 11, 2023 @ 6:30pm
Miami Beach Convention Center
Special Concert Performance by the legendary musical group:
Earth Wind & Fire
LEARN MORE
---
ARCHDIOCESE OF MIAMI HOTLINE NUMBERS
Statewide (DCF) Abuse Hotline
1-800-96-ABUSE
(1-800-962-2873)
Archdiocesan Abuse Hotline
1-866-802-2873
Victim Assistance Coordinator
Peter Routsis-Arroyo
1-866-802-2873