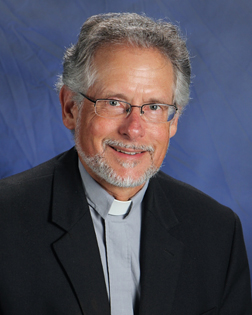 Reverend Robert F. Tywoniak
M.Div.,M.S.W.,C.S.W.M., Pastor
Our current pastor, Rev. Robert F. Tywoniak (Fr. Bob) shared with us how the words of Mother Theresa of Calcutta, "I am called to be faithful, not successful," have come to make more sense to him over his time in the priesthood. One might work years to build up some particular ministry or another in service to God's Church only to be called to something and someplace else, leaving the reaping of the fruit to someone else. It can bring about frustration, even sadness, wondering "why could I not stay and taste the sweetness of my labors?" The disappointment is inevitable unless one has faith and trust that all will reach its proper End.

Mother's words are reflected in our Mission Statement, "A Faithful Community in Service To All.

Perhaps you have had experiences that have left you frustrated, disappointed and sad. One might even say angry. This experience might have come from a broken relationship you have had with someone. You might have lost a job that you so dearly put all you had into. World events have left you despondent. Truly, it might be the Roman Catholic Church, in some of its people or leaders, which by their behavior have let you down terribly. These things have piled on. Now, for some reason you are searching.

All that anyone at Blessed Sacrament Roman Catholic Church can say is, we are faithful. None of us can claim to be perfect, all in agreement with one another about all things or always as kind and thoughtful as we ought to be all the time. We say in our vision statement, "...we endeavor to become a unified community..." and we "hope to be a friendly caring parish..." No one is perfect and everyone is a bit of a hypocrite. What is also true is you are, too, and "there's room for one more" of us here.

We do, though, Celebrate, Educate and take Stewardship of ourselves and the Church. Our Sunday (and Saturday Vigil) Liturgies (Masses/Services) lift us up just because we are with the Lord, in His Sacramental presence. We even strive to sing well and be filled with solid preaching of the Word, and pray together sincerely. Perhaps this is what you need now. You need a place that will celebrate all of life's moments; the ups and the downs, included. Come on in! This might be what God is calling you to. We might not be successful at whatever you might expect of us. But, as one wise old lady said, "I am making it." Well, we are making it.